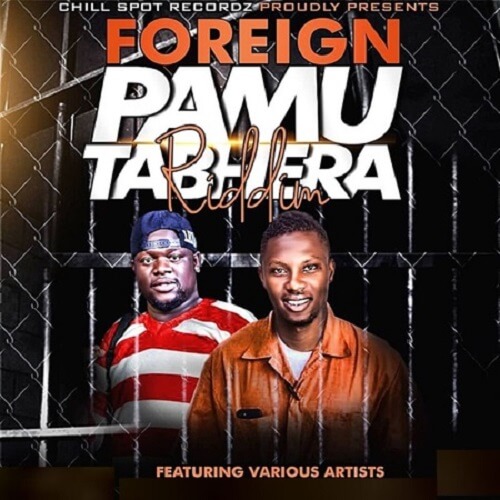 FOREIGN PAMUTABHERA RIDDIM – CHILLSPOT RECORDS 2021
RIDDIM NAME: FOREIGN PAMUTABHERA RIDDIM
RIDDIM PRODUCER: CHILLSPOT RECORDS
No. OF TRACKS: 32
YEAR: 2021
GENRE: ZIMDANCEHALL
Zimbabwe's leading record label, Chillpsot Records, has released a new awaited riddim called Foreign Pamutabhera Riddim. This riddim was released after Levels and Fantan, the producers, were incarcerated and sentenced for up to six months in prison amid breaking the Covid-19 Zimbabwean Law by hosting a bash end of last year, 2020. They were in the cells for a number of weeks. This then inspired the release of Foreign Pamutabhera Riddim.
Looking for the meaning of the riddim title? Foreign Pamutabhera is said to be a Jagon used by Prison Guards at the Harare Central Prison. They use the language during feeding time instructing the inmates to stoop low for counting. In the words of the producer, Levels, inmates are counted in fives.
This riddim consists of thirty-two tracks by various artistes such as Enzo Ishall, Bazooker, Uncle Epatan, and many more. Enzo Ishall came in with a track titled Vasinganzwisisi which was well known as 'Ukunyepa' before its release. Bazooker rode the riddim with flawless vocals in his song, 'Totya'.
Other great Zimdancehall chanters on this riddim include Boss Pumacol, Van Choga, Ma9nine, Dobba Don etcetera. The list of good tracks on the Foreign Pamutabhera Riddim compilation goes on. Every artiste gave their best shot.
Tracklist:
Bazooker – Totya
Boss Pumacol – Hamuna Nyaya
Cantolman – Chidenderedzwa
Cc – Munhu
Chifinhu – Dhululu
Delroy – Burn Dem Down
Dobba Don – Muzumbani
Dwayno – Surround Me
Enzo Ishall – Vasingazvinzwisisi
GMC – Hauite
Ginna Marrinah – Ndoda War
Jerry B – Handiite
Kabhidha – Achimwene
Kinnah – Kuzoporofita
Lady B – Tovadyisa Nyaya
Likkle Art – Kadiki Diki
Lukkoh – Mvura Ya Noah
Ma9nine – Tana
Master H – Zato
Mbida D – Pontulation
Mc Kampton – Skank
Monyarous – Pamutabhera
Ndunge Yut – Four Pamutabhera
Nice Killer – Chauya
Nyasha Timbe – Iwe
Princo Spice – Pon Da Riddim
Ras Pompy – Chintaulila
Shakie Tea – Hwai Shiri
Terminator – Jesu Idombo
Uncle Epatan – Zodzo
Van Choga – Hamuke
X Fyah – Mushakabvu
Sample: Vasingazvinzwisisi By Enzo Ishall